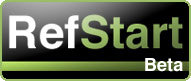 It's official, RefStart is now LIVE!
When Text a Librarian launched at ALA Midwinter in January earlier this year, we began hearing of the difficulties of managing all of the various virtual reference utilities, social networks, search engines and reference sites available. "I wish I could have everything in one place" became a current theme. We immediately started research and development for what would become RefStart.
When describing RefStart, we tell people to think of it as two separate, but cohesive, parts: Personal Start Pages & The Toolbar.

The Start Page
Recently, we wrote a blog post about start pages tipping our hats to those individuals who pioneered the idea of using start pages like iGoogle, Pageflakes, etc. as external library resources for patrons and to help increase workflow efficiencies internally. It made perfect sense to develop RefStart with the functionality to include your own personal start page, to build one or to use one of our templates. Please click here to read more about start pages.
Update: Netvibes started "frame busting" so we no longer recommend them as a useful option for RefStart.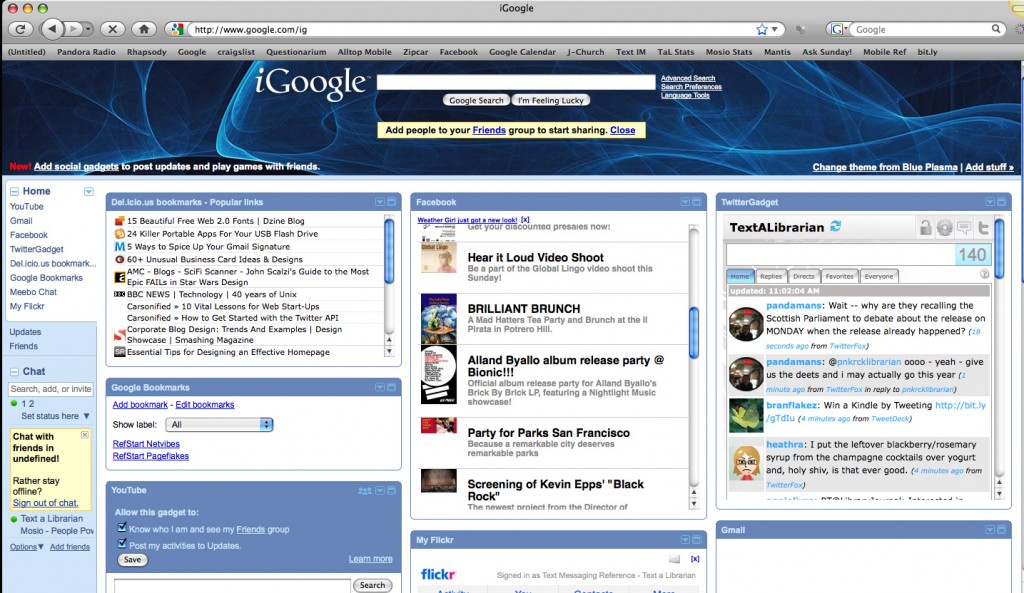 [iGoogle is one example of a personal start page]

The Toolbar
The RefStart Toolbar provides customizable quick links, IM reference logins, 7 single-click search engines and full integration with Text a Librarian. No matter how often you change your start page, you will always "take the toolbar with you."

Quick Links: These are 4 customizable quick links to bookmark your favorite sites for quick, easy access. You can edit/change these as often as you like.
Search: RefStart is linked with 7 search engines: Google, Bing, Librarian's Internet Index, WorldCat, Library of Congress, Wolfram|Alpha and Twitter. Simply type your search term(s) into the box and click on the logo of the search engine you want to use to perform the search.
Chat Launch: Using the chat launch drop-down menu, select a chat program to open up in a new tab. Login to your account and begin chatting.
Text a Librarian Notification: A flashing red box lets you know that a new question has posted to your Text a Librarian microboard. Simply click on the link inside the red box or click the Text a Librarian logo on the left side of the RefStart Toolbar to be taken to the microboard.
The Result
Combine those two elements and you have RefStart: A dynamic, web-based mobile reference utility to help increase reference productivity…and to make your life easier.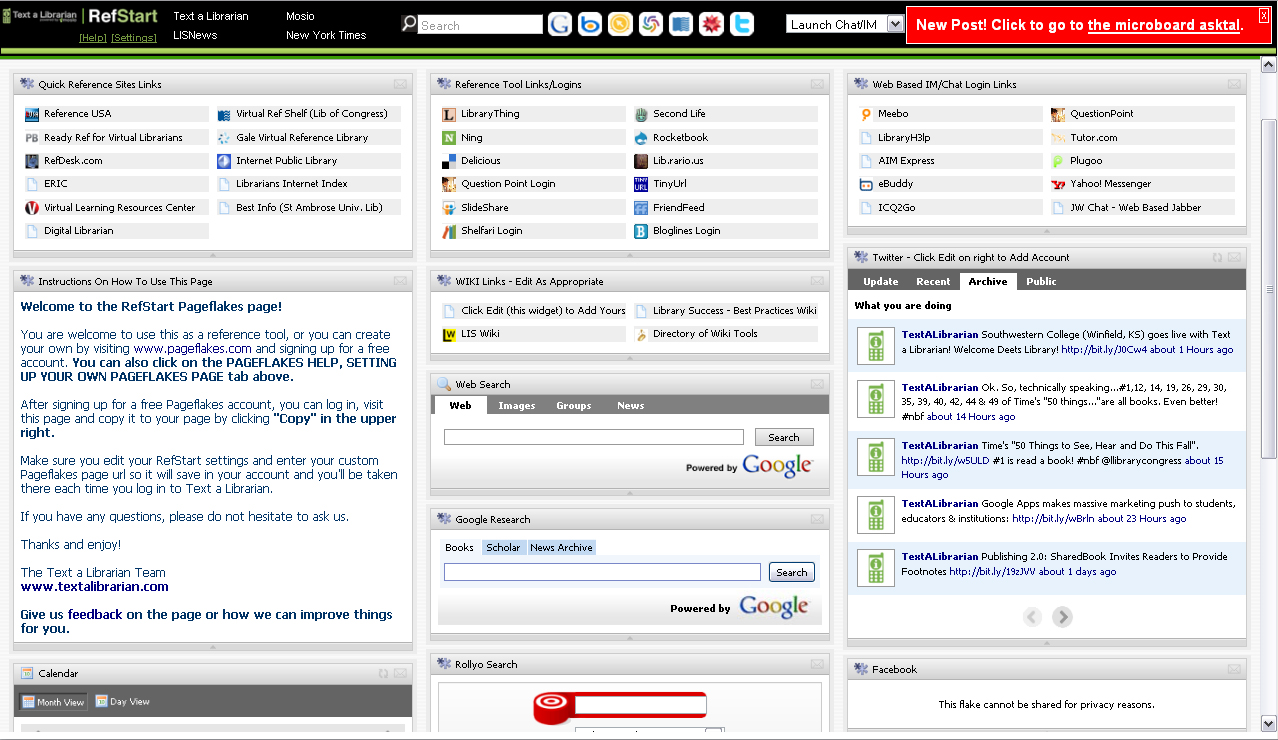 RefStart is a free, standard feature of Text a Librarian. If you would like to see RefStart in more detail, sign up for a live demo. Questions, comments or feedback? Email refstart@textalibrarian.com.
Thanks for reading!