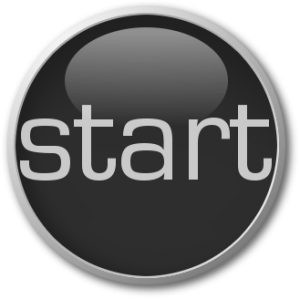 We realize that start pages have been talked about in the library community for several years. Michael Stephens wrote a great piece on start pages about 18 months ago (originally written in Computers in Libraries in April of 2007) and Dr. Joyce Valenza recently wrote a piece called "netvibes enhanced!" on the School Library Journal in May of 2009. These posts are very helpful in showing how start pages like Netvibes, PageFlakes and iGoogle can all be utilized as "library info-portals" which is absolutely true. What we're finding interesting (and Michael Stephens mentions it in his piece) is how these start pages can be used as a time-saving, virtual reference efficiency tool.
The Unquiet Librarian wrote a quick blog post called "netvibes recognizes itself as a virtual library/reference pathfinder" and there was a lot of excitement around the office when we saw her post. We actively read and discuss posts and "how to" pieces by Aaron Tay on his blog "Musings About Librarianship." We're fans, love how he shows as much (if not more) than he tells how to get crafty with technologies and try to follow the same educational elements in our blog as he does in his.
A Quick Note About RefStart
It's no secret that we're about to launch a beta version of RefStart, a project we've been working on since April, which is a standard feature within Text a Librarian giving librarians one-click access to reference tools, search, web 2.0 sites and popular social networks. We announced and actively showcased it at ALA Annual in Chicago last month and got an amazing response, there are two main reasons we think this is the case:
1. Budget cuts and layoffs are making everyone need to be more efficient.
2. There are new web 2.0 and social media services popping up all the time.
Why Start Pages?
The reason we love start pages and think they're great reference tools is because they are versatile, customizable, can be accessed from anywhere and if a new social media or web 2.0 service pops up and your library is part of it, chances are you can add a widget, gadget or module to have quick access to it. Also, they can be made private (the 3 services we're listing below default to private), giving you the ability to have your personal information there or share it with colleagues behind a user id/password. Need more info on how start pages can be used to be more productive? Check out the SlideShare presentation iGoogle for Productivity and Outreach by PF Anderson, April 2009 at the bottom of this post. It has some great screen shot examples and info on how iGoogle can be used to be more productive.
—
3 Start Pages You Can Use
Rather than do a point by point break down of each (here's a break down of them from PC Magazine if you're interested in that), I've simply pasted a screen shot with a quick description of each. Ultimately, it comes down to personal choice on what you want. In the efforts of guidance, I will say that a large number of people at Mosio/Text a Librarian use iGoogle, but we created reference start page templates in Netvibes and Pageflakes (some might say they are reference tool overkill, but it was sort of the point) as part of RefStart. The templates are public, so anyone can use or copy them. The screen shots for them are below as well as a link to them.
RefStart Template Use #1
If you really like our templates and want to use the reference resources inside as is, by all means please feel free to do so. They are for public use. You can bookmark your favorite template and use it without registering on Nitevibes or Pageflakes or having to create your own page.  The limitation of this use is that you cannot move/add widgets or personalize it in any way (i.e. you can't add/manage your social networks via one of our templates).
RefStart Template Use #2
If you like a lot of our widgets and resources, but you want to be able to add new widgets and personalize everything, we recommend signing up for the service of your choice. Once you have your own start page, you can go back to our templates and simply copy the modules/widgets from the template on to your page. This is really the best use as you are able to manage your own page.
Note: iGoogle does not allow public access of personal start pages (except for a few celebrities as of late).
iGoogle has thousands of "gadgets" that can be easily added and shared. The iGoogle page shown below features Delicious, Facebook, Twitter, Flickr, Gmail, Bookmarks and YouTube Gadgets. Click on the iGoogle title above to browse features and/or sign up.

—
Pageflakes is very easy to work with. The Pageflakes RefStart Template below features Facebook, Twitter, a handful of virtual reference search bookmarks/links, Google, Rollyo Search and a CNN RSS feed. The best thing about these start pages is the ability to copy pages or modules that you like. You can copy individual modules from our template or the whole page after you sign up to create your own Pageflakes page. Clicking on the image below will take you to the RefStart Pageflakes Template.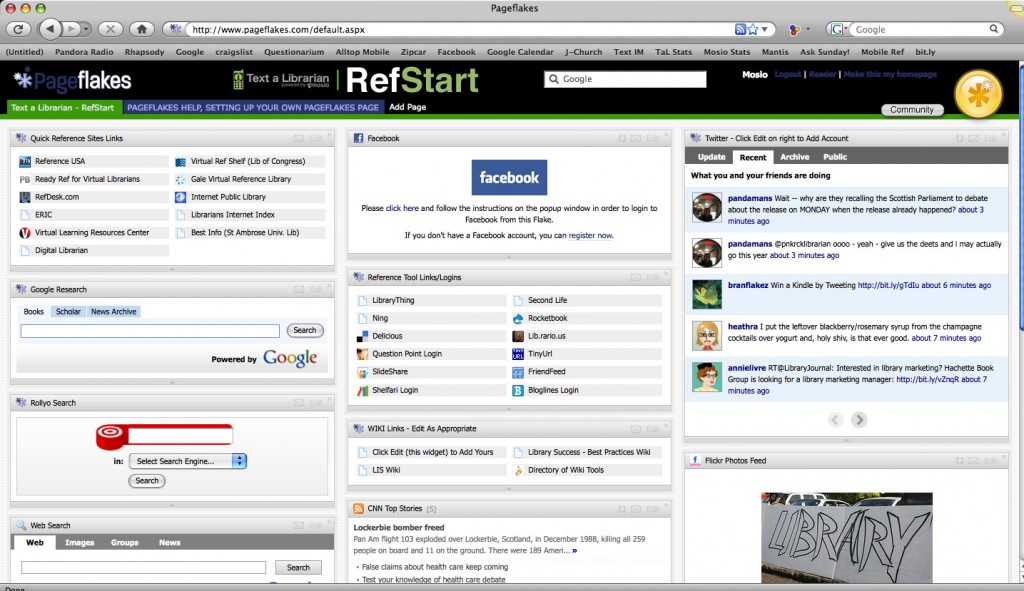 —
Update (11/12/09): Netvibes started "frame busting" so we can longer recommend them as a useful addition to RefStart. If you're a die-hard Netvibes fan, we don't blame you, it's a cool service, but we recommend using either iGoogle or Pageflakes with RefStart for a better experience.
The Netvibes RefStart template below features Facebook, Twitter, a handful of virtual reference bookmarks/links, Myspace, Delicious, Flickr, Twitter Search, Google Calendar, YouTube search and an RSS feed from ALA TechSource. Like Pageflakes, you can copy any module/widget you like, so if you create your own Netvibes page, you can then come back to our RefStart Template and copy whatever parts you like and add them to yours, all in a few clicks. Clicking on the image below will take you to the RefStart Netvibes Template.
*UPDATE*
We have been experiencing some difficulties with the bookmarking widgets in Netvibes when using IE explorer. All seems to work fine with other browsers (Firefox, Chrome, etc.). We'll continue to work on a solution. In the meantime, try a different browser if you'd like to view &/or copy the links to the reference sites/logins on Netvibes. Thanks.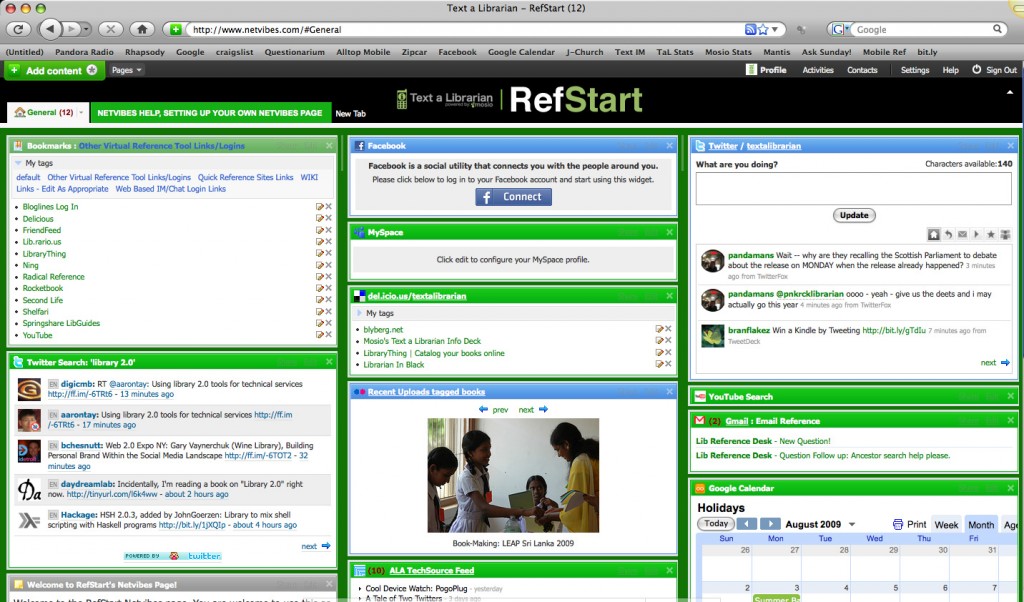 —
So that's about it, 3 start pages that can be created, copied, edited and are accessible anywhere. Start pages will continue to evolve as more developers create widgets and gadgets for them and don't see them going away any time soon. The templates are only a part of the RefStart application soon to be released in Text a Librarian. If you are interested in signing up for a live demo of Text a Librarian to see how start pages integrate with RefStart, you may do that here.
—
—