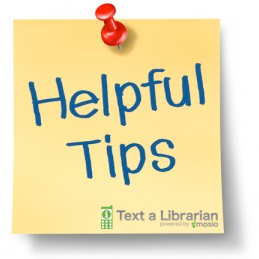 Adding Mosio's Text a Librarian Reference Widget/Tab to your LibGuides
Special thanks to Kristen B. for the helpful info!
In her own words…
"As our resident LibGuides nerd, I played with a couple of ways of putting the code in. To put it in the footer [which places the tab on all pages], the process is: 1.) Login to LibGuides. 2.) Click Dashboard. 3.) Click Admin Stuff –> Look & Feel. 4) Paste the chat code in the "Custom Footer Code" box. This is a "system wide" setting, and the code will appear on every page. One must have administrative-level access in LibGuides to get to these settings.
I also discovered that I can put the widget on individual LibGuides pages by opening the plain-text editor of any box on that page and pasting the code in that way. A really easy solution if one doesn't want the chat box across the entire system."
And if all else fails, you can either ask the super helpful LibGuides folks or hit us up for support. We've heard from a few libraries that it's relatively easy to do, but we'll do what we can can to get it up and running for you.
Are you a Text a Librarian customer? Sign up for our TAL customer newsletter for news, updates and helpful information!