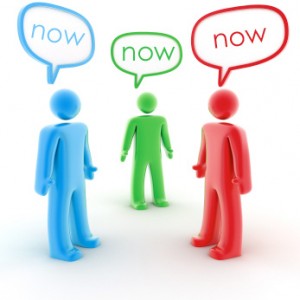 7 Things Library Customers Want NOW
What attracts library customers to today's libraries? The rise of mobile culture and the smart phone society brings a dynamic shift in expectations about how, when, and where to access information. Endless media streams, interactive news feeds, and autonomous research options provide numerous avenues for information-seeking customers. What factors draw their attention to the library, rather than a crowdsourced data channel, commercial service, or search engine?
1.    Convenience. Mobile customers use text messaging constantly and carry on multiple conversations concurrently. Libraries offering SMS services to manage reference, information, or patron relationships fit seamlessly into to this information exchange and can interact directly with the customers at the point of need.
2.    Community. Libraries serve an essential role as a leading provider of educational programs, local events, after school and family activities, and employment and business resource centers. Announcements, notifications, mailing lists, newsletters, and social media are effective options for community interaction, library marketing, and advocacy.
3.    Immediacy. Libraries partner with other libraries around the city, county, state, and country, and make use of these established networks to connect readers and researchers with necessary information. From integrated request systems to on-site kiosks, libraries support patron self-service, both inside and outside of library buildings.
4.    Accuracy. Librarians deliver experienced, trained, and intuitive support to readers and researchers seeking specific content. Rich collections are enhanced by a curator's historical knowledge, detailed research questions are handled by subject specialists, and so on. Library services delivered via IM (instant messaging), allow librarians to handle complete questions while providing direct access to supporting documentation and online resources.
5.    Customization. Once accurate content is identified, librarians provide expertise, synthesis, analysis, feedback, and references, without bias, in the context of the inquiry.
6.    Privacy. Libraries' privacy practices are published and non-negotiable: private records are not made public, sold to advertisers, or shared with other agencies.
7.    Service. Regular library users recognize the value of direct support, local context, and personal attention. These strengths, built and enhanced through patron relationships, set outstanding libraries apart from the competition.
About the Author
Lisa Carlucci Thomas is the Director and Founder of Design Think Do, providing innovation and technology consulting to libraries, publishers, and information partners. Follow Lisa on Twitter @lisacarlucci
Want to get more free patron support tips delivered to your inbox? Sign up here!
—