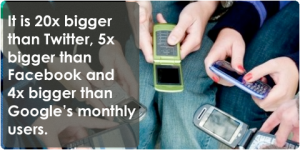 4 Fresh Themes to Market Text Message Reference
Lisa Carlucci Thomas
There's been a noticeable trend shift in the past year: mobile is coming of age. More and more people are upgrading feature phones to smartphones, apps and mobile web sites are increasingly available and sophisticated; and emerging research about mobile behavior provides deeper insight into the how, when, and why of mobile interaction.
In libraries, text message reference consistently provides real-time, expert support at the point of need. As the mobile community continues to grow and mature, it's essential to reach out to customers and be sure they know how, when, and why to use your library's text message reference service.
In the recent Pew Internet study, Just-in-time Information through Mobile Connections , "70% of all cell phone owners and 86% of smartphone owners" sought "just in time" information via mobile communications over a 30 day period.  Among the objectives cited:
To solve an unexpected problem
Find information to help settle an argument
Obtain real-time traffic or public transit information
Get help (in an emergency situation)
Reference librarians receive these types of inquiries daily; why not more by text message? With the back to school rush right around the corner, now's the time to revitalize your text message marketing to focus on the just in time behavior of mobile customers in 2012.
Need inspiration? Take a look at these retro library posters, then design your own based on the Pew findings. Tweet your designs to @textalibrarian & @lisacarlucci to be featured!
4 Fresh Themes to Market Text Message Reference:
SOLVE A PROBLEM | Text A Librarian
SETTLE AN ARGUMENT | Text A Librarian
REACH YOUR DESTINATION | Text A Librarian
GET HELP | Text A Librarian
Lisa Carlucci Thomas is the Director and Founder of Design Think Do, providing innovation and technology consulting to libraries, publishers, and information partners. Follow Lisa on Twitter @lisacarlucci