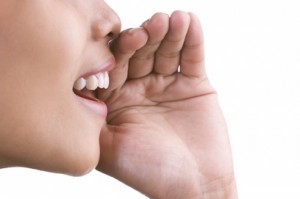 A new study shows 2/3 of marketers are using social media. Indeed, it is a very important element of promoting products and services, but what about getting back to the basics?
Word of mouth is, and will always be, the best form of marketing.
Qualified referrals from trusted sources play a vital role in customer decision-making. There's nothing like a recommendation from a friend, family member or associate to help introduce and endorse new products and services. These recommendations increase consideration and participation across the board.
New services at your library are no exception. Adding text messaging to reference services  means harnessing the mobile channel to increase outreach by connecting with patrons wherever they are. This is a cool concept and a useful service. Why not reach out to those people in your circle to let them know? Maybe they will find the service helpful. Maybe they know others who will too.
Word of Mouth 101
A great introduction to Word of Mouth Marketing 101 can be found at the Word of Mouth Marketing Association website. For this post we're going to focus on two of the five basic elements they highlight:
* Educate people about your products and services
* Provide tools that make it easier to share information

For years, the Faberge Organic Shampoo commercial has been a great example for how word of mouth marketing works. In the commercial, a woman talks about loving her shampoo and telling 2 friends, who tell 2 friends and so on – this is Word of Mouth Marketing 101 in its simplest form.
Start Internally

When we make major announcements or launches at Mosio/Text a Librarian, everyone on the team is encouraged to tell friends, family and associates. Usually, a single email is sent internally to give quick "copy/paste" info. That way, everyone has the information bullets and can pass along in their own voice. Depending on the context of the announcement, in addition to emailing, it may also be encouraged to post online (Facebook, blogs, Twitter, Delicious, Digg, etc). It is never required and always optional, but whether or not someone chooses to pass the information along, s/he has the tools to make it easy. At the very least, now everyone knows.
Email Still Works

This isn't to simply say "send out an email to your list and the world will show up at your door." An effective email, even sent to your personal contacts, must have a compelling subject line, easy-to-digest content and clear main points, thus making it a quick read with defined takeaways. Those elements will not only help tell your story but will allow the recipient to easily share with friends and colleagues too.
Adding "Please forward this email to anyone that you think will find it helpful." or something similar can work really well to extend the reach beyond your address book. It's not pushy and lets everyone know that it's ok, and welcomed, to forward along if they choose.
Contextual Contacts
They may not currently be in your virtual Rolodex, but establishing relationships with local teachers, student union representatives, education professionals, before-and-after school program instructors, community center staff and other contextual contacts can go a long ways to spread the word about library services. The wider net you can cast, the better.
If these groups are already on your contact list, continue to keep them updated. It can be as simple as asking them if they want to sign-up for a library newsletter to get news and information that could benefit their students, members and patrons. They might also be willing to distribute or place library marketing materials at their information desks.
Encourage the Social

Of course, the importance of word of mouth marketing through the sharing utilities of social media cannot be overlooked, but must taken in context based on any number of factors that would consider a recommendation as truly qualified. That said, the more exposure a product or service has as a result of social media sharing, the greater the likelihood that individuals will take the time to investigate to determine their own level of interest.
There are a handful of ways to make it easy for people to share information…about anything. These services give you a little bit of code to copy/paste onto your website, blog, etc so readers can easily share the information via email or a handful of other social media services. We've listed 3 below and use Add This simply because we have for awhile. All seem to work well and Add This claims to be the biggest. If someone is excited enough, they'll figure out a way of telling others, but you might as well make it as easy as possible for them to do so.
Here are a few to consider:
Add This
Add to Any
ShareThis
Other Ideas
* Email Signatures – These make every email a marketing tool, are simple to update and can have mass reach from lots of sources. They can also help spark conversations with contacts that you communicate with, but would not normally send an announcement email.
* Add Footers on Your Reference Answers – You can add a footer to reference emails if you're responding to patrons via email, or manually type out a footer at the end of an IM conversation (using a " * " symbol helps delineate a footer message from the body of text). Text a Librarian has an SMS Footer option that lets libraries add a small message at the end of a response.  If your library offers SMS reference, you can try something like "Tell a Friend to Text Us!" in your SMS Footer.
There are certainly many other ways that companies and organizations have successfully utilized word of mouth marketing not mentioned here, and we look forward to trying some out ourselves.
Thanks for reading. See you next week!
Ps. You may see the "Share" button at the bottom of this page.  If you know anyone that might find this post helpful, please share it with them.