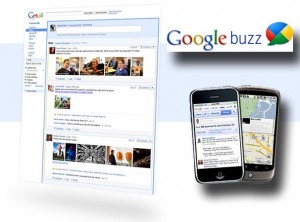 Use the Buzz to Build One
Google's new microblogging service, is getting a lot of, well, buzz. "Hello World!" has literally been replaced by "Buzz! Buzz!" by new people trying it out. If you're not familiar with it, here's the best way to explain it:
It's all of the elements that one could think of getting out of Twitter (more than 140 characters, the ability to post videos and photos) packed neatly into your gmail account. While there are still some kinks to work out (you get an email every time someone you're following posts or comments, which could get really annoying fast), Gmail's built-in active user base of 176 million users is making it a clear force to be reckoned with.
In comparison, Twitter claims to have 75 million users and about 25% of accounts are reported to be inactive. Foursquare, known by some as "The Twitter of 2010" is similar in that you "check in" using GPS on your phone and has been building momentum in it's growth. David Lee King recently had a great post about it called "Foursquare and Libraries – Definitely Something There!" And I would agree, but it seems Buzz might be hot on the trail as it has the same built-in GPS/Geo-Location features and it works directly with Google Maps. Granted, it's currently missing the fun "Mayor" game element Foursquare has, but this is a numbers game and Google definitely has numbers.

Library Marketing Tips for Using Google Buzz
Get signed up, get started and tell some associates.
Either for yourself or for your library, sign up for a Gmail account (which will give you a Google Buzz account automatically). If you have a Gmail account, but haven't logged in lately, you'll be greeted by a note about 
Google Buzz
and can get started right away.
Videos + Photos = Exposure
Let's be honest, many status updates just really aren't that interesting unless you know the person doing them. That said, there's now an opportunity (that shows up in Google results), to put more of the content you've created out on the web. Seemingly one of the best things about Buzz right now is your ability to post videos, videos, links and more than 140 characters to promote your library and the services you offer. If you're already posting to Twitter or Facebook, make sure you add Buzz to your list and some would argue it should go on top with these mult-media adding abilities.
Follow, Follow, Comment
It's only been around for a few days, but one of the elements that grabbed me quickly was my contacts showing up as people I was following. We use Twitter with some success, but instantly being able to see my friends buzzing around (most who don't use Twitter regularly), opened up my eyes to the bigger possibilities of Buzz. It can work for you too. It might take a little bit for more people to start posting, but commenting on someone's buzz gets their attention.
For example, my first buzz was geo-tagged by our office. This guy randomly calls me a nerd, then gives me double points for having a photo of a cat, offers to buy me coffe? A little creepy? Sort of, but also pretty cool. He got my attention and guess what? I checked out his website after he commented.

Have fun with it!
I'm not going to tell you how to have fun, I just think marketing is a whole lot better when you're having fun doing it.
Make sure you're listed on Google Maps
When someone is using the GPS function (currently only available on iPhones and Android), it will choose locations closest to them. If they're at or near your library (or you are), make sure your library is able to be found. It's an extra touch point/impression for the library when someone is buzzing either in your building or near it.
The best way to see if you're on google maps is to search for your library's name and then the city. If you see it, you're there. If you don't, visit
http://local.google.com
/ and click "Put your business on Google Maps." You should be there, but make sure anyway.
Read this other blog post
If you have any other ideas or thoughts, post them in the comments.
Happy Buzzing!
Update: Someone just Buzzed me this great post from AEXT.net entitled 12 Undocumented Tricks for Google Buzz, worth a read.