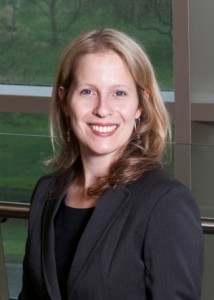 Today's Library Thought Leader is Lisa Carlucci Thomas, Director of design think do.
We have been exploring the idea of "Patron Relationship Management" (PRM) and it is the theme of this Q&A series. What areas of PRM are you seeing where libraries can benefit the most? What roles can mobile technologies play?
Libraries employ a variety of methods to establish and maintain quality service relationships with customers. Defining a patron relationship management (PRM) strategy ensures that library services align with the vision and goals of the institution and sets the standard for service consistency. As emerging information technologies have driven demand for new library communication channels, we've seen increased interest in the use of mobile and social tools to promote interactivity, expand outreach, market programs, and enhance the library service experience across digital platforms, and in our physical spaces, too. PRM tools offer integrated solutions to help libraries identify needs and priorities, obtain and assess feedback, and strengthen customer relationships.
While all libraries strive to deliver timely, effective, and seamless service to their users, many operate with minimal staffing and limited financial resources, which inhibit opportunities to take even modestly innovative risks. When you factor in the steady technological advancements of the last five years alone, combined with the outstanding cultural shift taking place in the way we collectively communicate and interact with information, what's needed now and what's realistic for libraries to implement right way become very different conversations. Meanwhile, patron expectations continue to evolve, and mobile users seeking mobile access to library services and collections expect to find what they need readily available. What they're actually finding ranges from splendidly concise library mobile websites and mobile searchable catalogs to advanced and complex apps; from straightforward SMS reference services to mobile-social communities via Facebook and Twitter; from value-added mobile services (QR codes, augmented reality, place-based digital collections, research guides, and more) to no mobile services at all. How do you prioritize services and engage users across the spectrum of mobile interest? Early adopters are now adept at navigating the mobile information experience, and fledgling users expect those delivering the information to anticipate their needs.
Patron relationship management via text messaging supports mobile users at all levels of engagement by promoting direct, responsive, communication, and allows libraries to address and assess mobile information needs of their unique customer base. Mobile PRM expands the SMS reference concept to combine marketing, outreach, and interactivity to meet a broader need for information services beyond the reference inquiry. A study of the Text a Librarian statistics at Southern Connecticut State University, where I implemented and managed SMS reference from 2010-2011, determined a 60/40 split between reference and non-reference mobile interactions. As more libraries provide mobile offerings, including patron self-service features, mobile payments, room reservations and program registrations, and access to ebooks and digital collections, expect non-reference communications from mobile users to increase.

Social media is such a hot button topic for libraries as well as companies in CRM (Customer Relationship Management). How do you respond to libraries that say "Ok, we have a Facebook Page and a Twitter account. Now what?"
Consider how these accounts support the communications and PRM strategy of the organization. Actually, this should be part of the first step, along with determining the name and brand that will be used to represent the organization. If you have the accounts already, make the time to have these discussions retrospectively. Document the organization's social media objectives and priorities. Include a flexible structure and expect it to evolve. Train staff in social media norms and culture, functional use of the technology, and how and which channels to use for different types of content, and why. Staff the position like any public service. It's not enough to simply monitor accounts; social media is proactive and interactive. Connect with others and build a network; this is your audience and community. Publish regular content, communicate with and respond to users, set goals, and track and assess progress. Who in the organization will be responsible for delivering timely, informed, interesting, valuable content on a regular basis? If multiple staff members will participate, who will manage the service and ensure consistency? Who will answer incoming questions across the organization's social media channels and adequately and appropriately represent the organization's vision and values? Who will manage analytics and report on statistics? Who will determine what content will be archived and how? Social media offers short-term, immediate engagement opportunities which can have long-term effect on consumer interest and loyalty. The advantages are high; the barrier to entry, generally, low. Libraries and organizations can work with partners, peers, and firms like design think do to establish an action plan for implementing and assessing communications, marketing, and PRM strategies via social media.
What is the most innovative new technology you've seen or heard about? Is there a way libraries can and should utilize it?
Mobile technologies, and related developments in the mobile-social information environment, are a driving force for innovation today. It's difficult to pick just one aspect of mobile tech and call it "the most innovative" especially since we're in a time of constant development, advancement, and growth, and mobile culture has widespread, cross-industry implications. Smart phones, such as iPhone and Android devices, multi-functional e-readers and tablet devices, such as the iPad, B&N Nook, and Kindle Fire are all being used to search, access, store, create, organize and interact with information. This is all still new technology to many of us; and even for the mobile-proficient, next generation devices and new applications with increased functionality and complexity continue to vex and inspire. Furthermore, expanding public interest in mobile services, including access to e-books and digital content, is fueling controversy related to digital publication, distribution, and licensing, for libraries, publishers, vendors, and organizations of all types. Libraries can and should utilize mobile technologies within the context of their organizational priorities and community needs. At minimum, librarians should actively learn about the changes that are taking place in the mobile sphere and consider how mobile technologies, social media, PRM and related innovations fit the goals and objectives of their libraries.
Thanks so much for your time! In closing, what are some great resources (along with contacting you, of course) for libraries looking to improve patron experiences and service?
Selected resources on mobile libraries, mobile culture, and patron self- service:
About Lisa:
Lisa Carlucci Thomas is a nationally recognized librarian and author known for her leadership, innovation, and research on mobile and social technologies. Her expertise includes ebooks, mobile libraries, social media, and technology trends and training. Lisa is the Director of design think do, providing custom creative services and innovation consulting for libraries and information organizations interested in mobile culture and services, ebook workflows and licensing, new media, and professional development programs. Lisa's recent projects include the Library Journal Virtual Tech Summit: Power to the Patron: From Systems to Services and the Connecticut Library Consortium's "Trendspotting 2011: eBooks: Collections at the Crossroads" symposium. Lisa is a 2010 Library Journal Mover & Shaker  and 2009 ALA Emerging Leader. She previously managed library systems and digital initiatives at Southern Connecticut State University, and access services and digital collections at the Yale University Library. She writes the Social Eyes column for the Journal of Web Librarianship.
Contact:
Lisa Carlucci Thomas
http://lisacarlucci.com
lisa@lisacarlucci.com
twitter: @lisacarlucci
Director, design think do
http://designthinkdo.org
http://www.facebook.com/designthinkdo
twitter: @designthinkdo
Do you know a library thought leader (maybe you?) who'd be great for our Q&A series? Contact us! We look forward to hearing from you.