Holiday Auto Responders…you can use them for anything, not just holidays!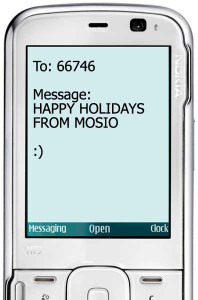 In preparation for the upcoming holidays, the Mosio development team has been hard at work improving the Text a Librarian experience. Today we'd like to introduce a simple but helpful new feature: Holiday/One-time Auto Responders.
Everything is explained below as well as in your Text a Librarian microboard (click on New Features in your Quick Links module on the right side).
Text a Librarian Holiday/One-time Auto Responders
Description:
Holiday/One-time Auto Responders enable you to set up auto responders for any days that differ from your normal weekly hours (holidays, special events, etc).
There is a screen shot below showing you the auto responder creator screen; setting them up is incredibly simple. Note: You must be an Admin to add/edit Auto Responders.
Here's how you set them:

1. Log in to Text a Librarian
2. Click on Auto Responder in the Microboard Administration Module on the right
3. Next click on the New Holiday Auto Responder link
4. From here, you can enter your message, along with the starting date/time, and ending date/time
You're done! There's no need to disable any of your regular auto responders since the holiday responder will take priority.
Screen shot…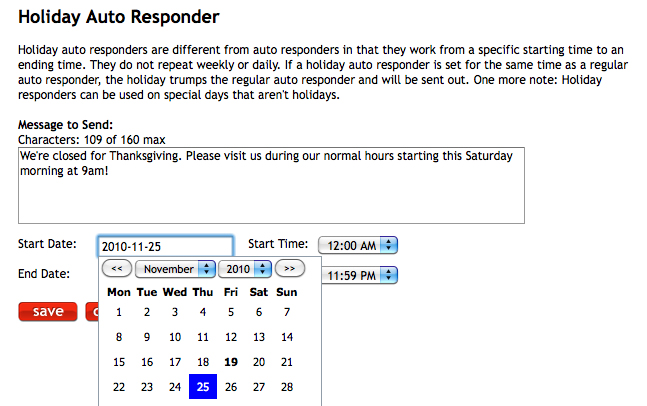 Let us know if you have any questions.
Best regards and Happy Thanksgiving!
The Text a Librarian Team
————————————————————


Text a Librarian
Text Messaging Reference Simplified
www.textalibrarian.com