Reposted for Libraries from Mosio's Company Blog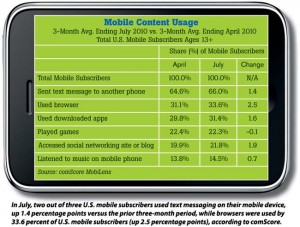 A colleague sent me a stack overflow thread today entitled "How much does it cost to develop iPhone applications?" It's worth taking a look at, most interesting is an answer suggesting around $10,000 ($50/hr for a Developer and $50/hr for a Graphic Designer x 200 total hours), which the stack overflow community quickly jumped on, providing insight and information to back up a more realistic $50k-100k (and some say $200k) price tag.
At Mosio, naturally we get asked about mobile applications from clients all the time. I love my MacBook Pro, iPhone and iPad, but Apple has spent plenty of money in advertising to convince us all that "There's an App for That." They even spent money trademarking the phrase and that's fine, they benefit by doing so. The craziest thing about the mobile apps hype is that it caters to less than 1/3 of the mobile subscriber market. Consider recent research about Mobile Content Usage for the month of July 2010 in the image above from Wireless Week:
Among all U.S. mobile subscribers ages 13+:
31.4% Used a Downloaded App
33.6% Used a [Mobile] Browser
66% Sent a text message to another phone
Why, then, do people think it's so inexpensive to develop iPhone apps?
I'm not exactly sure, but my guess is that it's a combination of people wanting to believe it costs less combined with the misinformation from people selling shoddy development services or app workarounds trying to capitalize on the hype. And before those of you developing "affordable" iPhone applications start flaming me in the comments, consider the fact that by saying it's inexpensive and cheap, you're essentially selling yourselves short, commoditizing your expertise. The misinformation hurts your skills and service.
The world is mobile and we want to provide a mobile experience beyond text messaging. What should we do?
If you are a library and looking for a great way to mobilize your website or catalog, we recommend you visit our friends at Boopsie. They have a great team and wonderful experience in helping libraries on an existing platform that makes the process simple.