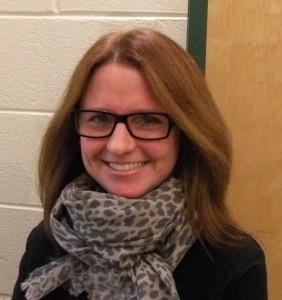 Today's library thought leader is Buffy Hamilton (aka The Unquiet Librarian), high school librarian and teacher at The Unquiet Library in Canton, Georgia.
For this series we are gathering thoughts and opinions about Patron Relationship Management (aka PRM) in libraries. What does PRM mean to you? Is it different in a high school library setting? If so, how?
In the high school library setting, this concept is central to establishing collaborative partnerships with students and teachers so that we can seamlessly integrate information and digital literacy skills and concepts into the context of content area research.   Points of patron relationship management include instructional design with faculty, the delivery of face to face and virtual instruction to students, and participation in the design and implementation of formative and summative assessments.  It's also taking time to listen to our patrons (teachers and students) to better understand their needs and passions as learners.  It's also reaching out to our patrons through our social media streams (our library blog, YouTube channel, Flickr account, and Facebook page)  and connecting through those mediums as well as putting the spotlight on the talents of our patrons—we genuinely value their role in crafting the "story" or narrative of the library experience at The Unquiet Library.
You recently wrote a blog post about the roles, titles and future of school librarianship. What roles will technology play in the future of your profession? Do you see it evolving even further, or are we already mostly there?
It's difficult to predict the future of libraries or technology's role in that future, but I see technology as tool and medium for amplifying the core work that we do in terms of providing access and services to our learning communities.   I think if we keep our mission and vision of our library programs first and then ask the questions, "How can technology support that mission/vision?" and "How can technology be a catalyst or provide support conversations for learning?" then we are more likely to do a better job of harnessing the potential of technology in meaningful ways rather than utilizing just for the sake of doing something "new" that may not necessarily be better.  The application of technology to meet a need of the library community and the possibilities technology can present are the interesting aspects of technology integration for me.
We hear mixed responses to mobile technologies used in high schools. Some are open to it and some don't allow mobile phones on campus or in the school because they are disruptive. What scenario creates a win-win for both students and faculty?
I think it's important that school districts continually examine their acceptable use policies in order for them to stay organic and to address the needs of learners.  As more districts update these policies and adopt "Bring Your Own Device" policies that provide flexible but clear guidelines for usage of mobile devices for learning, students, teachers, administrators, and parents are more likely to be on the same page in thinking about how to use these devices in ways to support student learning.   Rather than viewing the devices as a disruption, this challenge presents a wonderful learning opportunity for everyone to explore the literacy of attention (when is it appropriate to use the device?  How do I train myself to minimize distractions?  How do I configure my device to meet my needs as a learner?) and to provide faculty and administration professional development on strategies and emerging practices for incorporating the devices into classroom life.   Librarians can be facilitators of these conversations by providing workshops and resources for their schools and by having a voice in the crafting of these policies.
What is an example (technology-oriented or not) of how a school library has done a great job with "customer/patron service"?
One of my favorite things we've done to highlight the expertise of students here at The Unquiet Library is inviting students to do guest blog posts (either in the form of a written post, a video entry shot with one of our Flip cameras, or a combination of both) about a skill or a talents they've developed to share with our learning community.  Students can either send us their blog entry, be added as a guest author, and/or participate in a video entry that we upload to our library YouTube channel (with the student's permission, of course) and then feature in a blog entry.  We also incorporate student and teacher videos and commentary into our multimedia monthly and annual library reports hosted at http://bit.ly/I4wKTi.
Another innovative project that could be adapted to any library environment is the "Student Voice, Student Choice" initiative created by my friend and colleague Andy Plemmons at  David C. Barrow Elementary in Athens, Georgia.   Because he was paying attention to circulation data and student behaviors in the library, Andy realized students in grades 3-5 were not finding books that appealed to them; consequently, he sat down with the students, discussed with them their interests, and then worked with his Capstone Press representative to get samples of books that were about the topics the students cared about and on their reading level.  Students had the opportunity to browse the books and work with Andy to make book selections;  not only did students then have the chance to read the books they selected, but they also got to work with Andy to create podcasts to "market" their books to other students.   I encourage you all to read Andy's blog post at  http://bit.ly/I9Qnnd in which he details the process and what he learned from this experience and his students to improve his collection and library services.
What tips or resources do you have for other academic libraries looking to improve patron experiences and service?
I think the most important thing we can do that doesn't cost a dime is to take time to really listen to those we serve.  While we often have wonderful ideas for library services and programming, they may or may not be at the point of need for our patrons.    When trying to nudge people toward inquiry or advance an innovative learning strategy, we have to be willing to listen to learners and be open to making adjustments based on their feedback.  Something as simple as ten minute conversation with a teacher or spending an hour doing a research roundtable debrief discussion with a class can provide tremendous insights into what is working and what isn't in our instruction and services.  Relationships are at the core of successful libraries, and like a garden, they need constant care and nurturing.  By framing libraries as sites of participatory culture, we're better positioned to empower people to participate in and/or create learning communities around information literacy and content area standards as well as the passions, wonderings, and interests of students and faculty.
Great responses, thanks so much for your time!
Thank you!
About Buffy (in her own words)
I'm a high school librarian and teacher at The Unquiet Library in Canton, Georgia, with nearly 20 years of experience as an educator as a high school English teacher, technology integration specialist, and librarian.   I'm passionate about creating meaningful learning experiences for students and teachers. My interests include social media, participatory learning and culture, ethnographic studies, digital composition, personal learning environments, critical pedagogy, and social scholarship. I'm a 2011 Library Journal Mover and Shaker who loves dogs, shopping, running, music, and poetry.
She earned her M.Ed. in English Education in 2003 at the University of Georgia; in 2005, she completed her Ed.S. at UGA in Instructional Technology and School Library Media.  She has been recognized as the 2011 winner of the Salem Press Blog Award in the "School Library" division, Salem Press Blog Award,  School Library Blog Winner 2011 as well as the 2010-11 GLMA/GAIT Georgia Library Media Association/Georgia Association for Instructional Technology School Library Media Specialist of the Year.  Her Media 21 program (http://theunquietlibrary.libguides.com/media21) was a winner of the American Library Association (ALA) Office for Information Technology Policy (OITP) Cutting Edge Library Service Award.  In addition, she has been honored as one of the National School Boards Association Technology Leadership Network "20 to Watch" 2010, Tech and Learning's 100@30: Future Leader;  her library program was also honored as the 2010 Georgia Exemplary High School Media Program.
Portfolio:  http://buffyjhamilton.wordpress.com/
Blog:  http://theunquietlibrarian.wordpress.com
Twitter:  @buffyjhamilton
SlideShare:  http://www.slideshare.net/buffyjhamilton