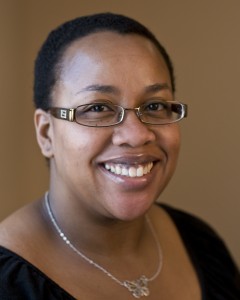 Today's library thought leader is Courtney Young, Head Librarian and Associate Professor of Women's Studies and Penn State Greater Allegheny.
Hi Courtney, thanks so much for your time, here we go…What does the idea of Patron Relationship Management in libraries mean to you?
For me, Patron Relationship Management means a supportive collaboration. That includes getting to know your users, provide them with the types of services they expect, and create opportunities for your patrons to discover something new at your library. PRM is outreach, opportunity, and advocacy rolled into one.
You were recently the Twitter moderator for Library Journal's "Power to the Patron" virtual tech summit. What ideas stuck out to you in the convergence of patron empowerment and technology?
I was really impressed with the creative ways libraries were bringing content of interest to their communities as well as improving access to their resources using technology. The walking tour of San Jose mobile site drawing from images in the library's collection takes digitizing a collection to a new level. Cuyahoga County Public Library's decision to stop tattle taping their print collection and encouraging self check-out via a mobile app is the ultimate in patron empowerment. These projects and others from the tech summit highlighted that being user focus has changed, and the implementation of these services using technology effectively provides an opportunity for patron empowerment. Dan DeSanto summed it up during his talk on the Long Trail digital collection when he noted by creating mobile apps libraries create access to digital collection at "point of interest".
It feels a little odd to say libraries "compete" with other entities, but when it comes to patron attention, companies, social networks and the media are all competing. What can libraries do to maintain the attention they have? Is it different for Academic Libraries vs. Public?
Libraries will likely continue to do the type of work that users traditionally expect, but it is very important that we continue to transform in the eyes of our users by experimenting with new models for providing information and other resources to our respective communities. The "Power to the Patron" virtual tech summit presentations are a glimpse into the possibilities for libraries to capture and maintain that attention. Outreach and advocacy must go hand-in-hand with strategic risk-taking. It is also important that no matter what libraries decide to do they must do it well.
While the missions of academic and public libraries can make the way this is carried out look different, there is definitely overlap in strategies for keeping your users' attention. This includes awareness of user needs and implementing programs and services to meet those needs. It has been my experience when having conversations with public and school library colleagues there are more commonalities than differences. Sometimes we use different terminology, but our goals are usually the same.
What is an example (technology-oriented or not) of how a library has done a great job with "customer/patron service"?
There are a lot of libraries out there doing an excellent job with "customer/patron service".  There are school libraries lending e-readers to students, a program that not only fosters literacy skills but also technology skills. There are public libraries providing diverse programming and events such as author lectures, live musical performances, book groups, and technology training. There are academic libraries collaborating with students to allow them to create LibGuides from the student perspective as well as teach software functionality skills (ex. creating high-impact tables and graphs, working with images to create slides for presentations). All these examples and more illustrate positive PRM.
What tips or resources do you have for libraries looking to improve patron experiences and service?
Educate your staff so they have the tools to succeed. They know and build relationships with your patrons, so their understanding of new programs, services, and technologies will allow them to directly provide patrons with positive experiences. Decide what skills everyone needs and what members of your team should become specialists or experts with certain products or services.
Ask for feedback from your library users and your staff. Not only will you find out what could be done better, but you may be surprised to find out what you are doing well.
Identify libraries providing the types of services and programs you want to provide at your library and contact them for advice and strategies. The library community is very generous with its time and eager to share information. In addition to how they decided to implement a particular program or service, you can often find out what modifications they made as a result or approaches they would have liked to have taken if they were planning it again for the first time.
Thanks for your time and insights!
Thank you again for the opportunity!
About Courtney:
Courtney Young is currently Head Librarian and Associate Professor of Women's Studies and Penn State Greater Allegheny. Courtney is an active leader in the American Library Association (ALA), serving on the ALA Executive Board and as a past President of the New Members Round Table. In 2011, Courtney was named a Library Journal "Mover & Shaker", recognized as a Change Agent for her ability to successfully make connections among a diversity of duties in her library, on campus, and in the profession. She graduated from the College of Wooster in Ohio with a B.A. in English and minors in Black Studies and Women's Studies.  She received her M.S. in Library Science from Simmons College.
Before coming to Penn State Greater Allegheny, Courtney worked at The Ohio State University, Michigan State University, where she received a Staff Achievement Award as the assistant instruction librarian, and Penn State's University Park and Beaver campuses. Courtney frequently presents and publishes on issues related to academic librarianship, diversity, African American studies, women's studies, virtual reference, and professional development.
Follow Courtney on Twitter at @librarycourtney and visit her blog at http://librarycourtney.blogspot.com/