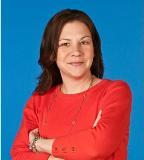 Today's Library Thought Leader is Alison Miller, Manager of the ipl2 Reference Services at Drexel University and the WISE Coordinator for Syracuse University.
As you know, the theme of this Q&A series is "Patron Relationship Management" or PRM. What areas of PRM are you seeing where libraries can benefit the most?
There is no one specific area, but rather several areas where libraries can benefit.   The relationship between libraries and users should include many things.  It should include responses and follow-up to questions, updates on new services or collections, information on events and programs, and more.  Users should be continuously engaged with the library and the idea of PRM is just that – a way for the library and users to form and continue a mutually beneficial relationship.
What is an example, technology-oriented or not, of how a library has done a great job with "customer/patron service" recently?
Makerspaces/hackerspaces!  Think of the possibilities of these spaces in libraries!  These spaces can really drive innovation in libraries.  The space is created based on common interests, whether it is technology, art, science, etc., with labs incorporating elements of studio or workshop type spaces and people can share resources and knowledge.  It is essentially limitless – ideas and creations from these spaces can lead to collection enhancements, new services and programs and new or renewed interest in libraries!
What roles can mobile technologies play in PRM?
Mobile technologies can and will increasingly play a very important role in cultivating relationships between libraries and users.  This technology is essential in all library environments:  public, academic, school and special.  We know that mobile use is huge, and this technology is used by the general public, college students, high school students and professionals.  People may not always have easy or quick access to a computer, but they always have their mobile device.  Those people that use text services are typically people that are texters – it makes perfect sense to add and enhance this service in libraries to increase communication and outreach with users.
What is the most innovative new technology you've seen or heard about? Is there a way libraries can and should utilize it?
I really like the hackerspaces that have been implemented in libraries.

Example:  The Fayetteville Free Library is installing a hackerspace/fablab with 3D printers, CNC routers and other equipment, available free to the public as a community space for making. The project is led by librarian Lauren Smedley, who is basically MADE OF AWESOME. Info: http://boingboing.net/2011/11/12/library-to-get-a-hackerspace.html
Many fear that libraries may become "techshops," but I see this as an exciting way to not only provide users and the community with an area that meets many of their needs, but allows the users to shape part of their library.  I have worked in libraries where technology and services are essentially "locked down," and the atmosphere in these libraries is not friendly or inviting.  Ideas and community involvement, like the fablab included above, are what will keep us growing – physically, intellectually and technologically!
What tips or resources do you have for libraries looking to improve patron experiences and service?
I think that libraries should use resources that best fit with user needs.  This may include a specific service, only applicable to a certain community (for instance, a law library), or a variety of services, including a mix that fits with the groups within the community (the public library – kids, teens, adults, older adults).  These services don't have to be expensive or time consuming types of things. But they do have to be user-driven.   I think what is most important is continued communication, two way, that involves methods to share and gather information.  Users like to feel that they contribute to libraries, that their voices are heard.  The greatest way to do this is to build and continue relationships with our users.  We do not define our libraries, our users do.
Anything else you'd like to mention about PRM, patron relationships to the library, etc?
PRM is something that should be considered in every library.  The economy affects our libraries, environmental factors affect our libraries – a lot of things affect our libraries.  The biggest affect should come from our users, and this is most beneficial when users feel that they have good relationships with their libraries.
Thanks Alison, we appreciate your time and ideas!
Thanks!
About Alison:
Alison is the Manager of the ipl2 Reference Services at Drexel University and the WISE Coordinator for Syracuse University.  She is also an adjunct instructor for Drexel and Syracuse, teaching courses including Digital Reference Services, Reference and Information Literacy Services, Innovation in Public Libraries and Social Networking in Libraries.  Alison was named a Library Journal Mover & Shaker for innovation in 2010.  She has worked in public, academic and special libraries for over 10 years.  She is passionate about librarianship and is always looking to improve practice, change misconceptions about libraries and librarians and spark innovation.  She is active in associations and is currently on the Board for the Association for Rural and Small Libraries.

Contact:
Linkedin:  http://www.linkedin.com/in/millerlibrarian
Twitter: @millerlibrarian