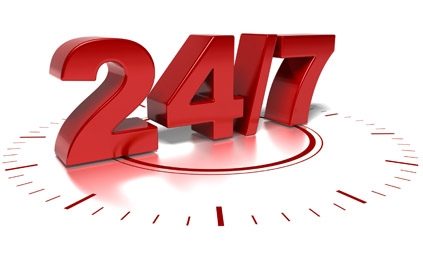 Is 24/7 Reference Really Necessary?
"An investment in knowledge pays the best interest" – Benjamin Franklin
One of the characteristics that can distinguish information specialists is their knowledge and ability to forecast the needs of informational services often before the public is aware of their future need for such services.
Our current society operates on a three shift day. Very few of us actually work a "typical" Monday through Friday, 9 to 5, 40 hour work week, and staying mindful of this, the availability of information and information professionals should become equally as flexible as those in need of these information services.
In teaching bibliographic instruction at the College of Central Florida library campuses in north central Florida, I include in that instruction the availability of the Ask-a-Librarian service that is provided for our students thanks to the dedication of many public, private and academic librarians. Prior to discussing the hours of availability, students will often ask, "Is Ask a Librarian available 24 hours?" This to me indicates that even in my selected area such services are needed.
Today, even in some of our nation's smallest rural libraries, patrons have the ability to access electronic journals, e-books, databases as well as other e-resources 24 hours a day, 7 days a week. Electronic information sources are growing in popularity throughout the world and along with this service, the need for expanded information assistance in other areas is often seen necessary.
When companies do establish their own in-house library, it is often limited and outdated. Medical professionals will sometimes have limited collections within their own facilities and are among the patrons seeking information outside the typical service hours of our public, private and academic libraries.
Perhaps instead of asking if 24/7 reference is necessary, we should now focus on the central element of when, where and how should we begin to commit the resources in providing this 24/7 reference.
Diane Perrine is a freelance writer and an Academic Librarian at the College of Central Florida in Ocala, Florida. She resides in Ocala Florida.
Her hobbies include gardening, hiking, bicycling, volunteering and learning something new everyday.
—
This article is provided by Mosio for Libraries. To receive these directly in your inbox, please register for our Patron Support Tips Newsletter.

Patron Support Simplified
www.mosio.com/libraries
—