Here memes, there memes, everywhere meme-memes! Who doesn't love them? We've compiled a list of 42 library related memes for your LOLing pleasure with identification of each (where possible) as to which is which. Enjoy!
1. Bad Luck Brian
Doesn't take out any books, library alarm still goes off.
2. Philosoraptor
How do I cite sources for my research paper? Use the library writing and citations resources.
3. Y U NO
Patron calling library, Y U no use library website.
4. Lord of the Rings (One Does Not Simply)
One does not simply return from the library without a book.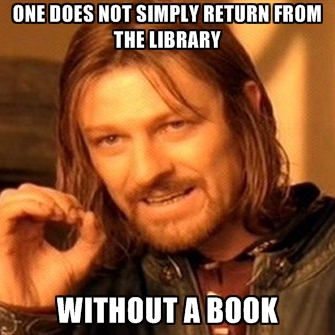 5. Condescending Wonka
A George W. Bush library? Do tell me more!
6. Matrix (What if I Told You)
What if I told you that wearing high heels in the library is a bad idea.
7. World's Most Interesting Cat
I don't always chew up your books. But when I do, they're from the library.
8. Thousand Yard Stare
Caught eating in the library, thousand yard stare.
9. LOL Cats
I'm in your library, check me out!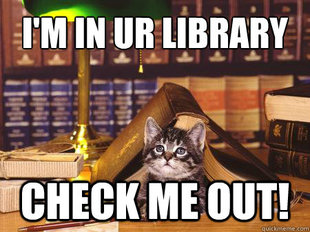 10. Grumpy Cat
Your library wants a cat? Pick me.
11. Hey Girl…
Good thing I brought my library card because I'm checking you out.
12. Foul Bachelor Frog
In the library to work on chinese imperialism assignment, look up memes instead.
13. Lord of the Rings (One Does Not Simply)

One does not simply cite 50 references in 10 mins.
14. Socially Awkward Penguin
Goes to the reference desk, pretends to use the stapler instead of getting research help.
15. Hey Girl…
I know finding sources for your papers can be tough. That's why I asked the library to provide personalized research assistance.  Just for you.
16. World's Most Interesting Man
I don't always use the library but when I do I get great results.
17.  Keep Calm and…
Keep calm and ask a librarian.
18. Skateboarding Professor
First to the library then to class at 8:02.
19. Good Guy Greg
You have fines over 10 pounds, lets you borrow his library card.
20. Ermahgerd
Havin fern ain't herd wern u hav a lerbery curd.
21. Monorail Kitteh
Now stops @ library.
22. Scumbag Steve
Takes library elevator, gets off at second floor.
23. Nyan Cat
Library card
24. Unknown
Was file sharing before it was cool.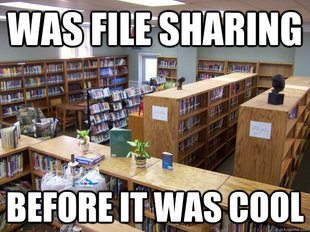 25. Philosoraptor
I can book a room in a room of  books?
26. Futurama Fry (Not Sure If…)
Not surf if "it's in the library", works as justification of source.
27. Lazy College Student
I go to the library to read all the new facebook statuses.
28. South Park (You're gonna have a bad time)
If you talk in the library, you're gonna have a bad time.
29. First World Problems
Need to pee when in library, don't want to lose my computer.
30. Unknown
Studying in the library during exam week …Rookie mistake.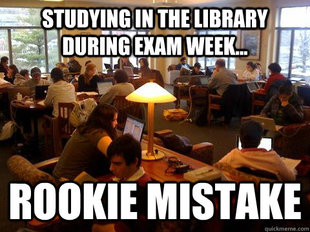 31. Conspiracy Keanu
Talked in library line, Q tip are my soul.
32. Some E Cards
You gotta fight. For your right. To library.
33. Success Kid
Walking around library during finals week, found a study room.
34. Game of Thrones (Winter is Coming)
Prepare yourselves, due dates are coming.
35. Annoying Facebook Girl
Goes to the library, opens chat.
36. Paranoid Parrot
Plug headphones in at library. Everyone can still hear my music.
37. Insanity Wolf
No eating or drinking allowed in the library? Eat and drink in the library.
38. Game of Thrones (Winter is Coming)
Brace yourselves, the tax questions are coming.
39. Judgmental Bookseller Ostrich
You don't understand the filling system. Sorry, I wasn't aware the alphabet could be confusing.
40. Upvoting Obama
Book not in library? Library will buy for you.
41. Lord of the Rings (One Does Not Simply)

A librarian does not simply shut kids up with shhh.
42. Success Kid
Went to library, found book I wanted.
—
Content copyright original owners. Compiled by Mosio for Libraries – Patron Support Software

—