Text a Librarian's Bit.ly Linke Auto-Generator: More Links With Less Characters

We have a handful of new features coming up over the next month, but wanted to quickly let you know about our Bit.ly generator, suggested by our customers as a "great to have" feature.
Bit.ly is a handy URL shortening technology that makes it easier to crunch long urls into less characters. Now with Text a Librarian, you can paste a long URL, check the Bit.ly box and it will shorten it for you.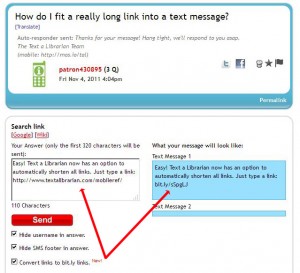 After librarians send the message, if they mouse over the bitly link, it'll show them what the real URL looks like, see below for an illustration.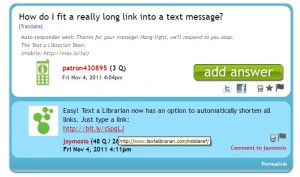 More features and exciting updates coming soon!
Thanks,
The Text a Librarian Team