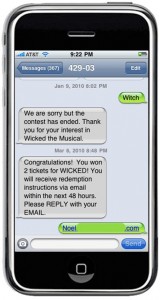 Apparently I won two free tickets to Wicked, the musical playing in San Francisco. Let me start by saying when I got this text message last night, I was thrilled. My wife and I have talked about going for a few months now and other things have come up. So on January 9th we were shopping and I saw a "Win Tickets to See Wicked!" poster in the BART station in San Francisco. Being a curious person and also "in the business", I will pretty much text anything. I vote for American Idol contestants, text questions to The History Channel and get text message alerts from Wired Magazine and the Syfy Channel. I've seen my fair share of both great and poorly executed mobile marketing campaigns.
After texting WITCH to 42903, I promptly got a response back saying "We're sorry but the contest has ended. Thank you for your interest in Wicked the Musical." My first thought was "bummer, I missed out" and my second thought was "bummer, they missed out on an opportunity to keep me interested."
How did they miss out on an opportunity?

1. Use the Space.
Their "sorry" reply was only 89 characters, leaving 71 characters on the table (45%). I'm a huge fan of white space, but in my opinion, a text message is no place to try and get artsy. 71 characters is plenty of space to create an additional call-to-action.
2. Wicked has a wap site.
Being interested in the musical, I would have clicked on a wap link on my phone had there been one.
3. Wicked has a Twitter account.
A Twitter account can easily be made mobile friendly by adding an "m." in between http://twitter.com/wicked_musical
Two months have passed…
That was January 9th and a lot has happened since then, none of which has involved my wife and I buying tickets and going to see Wicked. I'm telling you honestly, we really want to go, but life happens and other things grab one's attention. So last night, almost 2 months to the day, I get a random text message with "Congratulations! You won 2 tickets for WICKED! You will receive the redemption instructions via email within the next 48 hours. Please REPLY with your EMAIL." So I did.
I'm not trying to be nit-picky here and even though they said they'd get back to me within the next 48 hours, I think there's one more opportunity missed here. Instead of being like a friend who texts you and says "I have something AWESOME to tell you and I'm going to do so within the next 2 days" they could have sent an auto-responder email to tell me my email has been received, that more exciting details are on the way, but also give me photos, links, post-to-social-media buttons, etc. So here I am…waiting.
Wicked marketing folks: I hope you're not reading this with a harsh tone and no, I'm not just saying that because I haven't gotten my free tickets yet. In fact, I've now officially blogged about it and will be posting this to Facebook and Twitter as well so you get your proper "bounce" from the give away, but I thought this was a great example of how a mobile marketing could have been better utilized in an advertising campaign. Call me. 🙂
UPDATE:
Wicked (and not in the Boston way)…I just got the following message: Please disregard the txt u received re: WICKED. It was due to a transmission error. Ur info is secure & we apologize 4 confusion. For questions intsit@gmail.com
In case I have questions I can email their, uh, gmail address. I actually DO have a question: Will you call my wife and break it to her that we're no longer going to see WICKED for free? Cuz that would be great. KTHXBAI!
Seriously, though, I do not envy the panic that took place when they realized they sent a "Winner!" text to everyone who entered the contest. That probably sucked. But, besides this mobile marketing fail, I stick to my original points about how other opportunities were missed in the first place. And speaking of opportunities…WICKED Mobile Marketing folks: If you're looking for someone new to handle your text messaging campaigns, please consider Mosio.