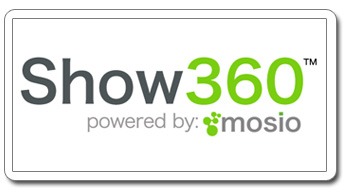 Web-Based Software and Managed Interactive Mobile Solutions for Event Management, Organizers and Exhibitors
San Francisco, CA December 14, 2009 — Mosio, an award winning mobile technologies company providing messaging and mobile web solutions for businesses and organizations, today announced the launch of Show360 Mobile, a suite of interactive mobile solutions for the conference and event industries.
Show360 combines hosted, on-demand mobile messaging software and managed services, enabling show organizers and exhibitors to maximize the interactive mobile experiences for attendees while they are on-the-go, regardless of phone type.
Conference attendance is down considerably in 2009. Corporate travel restrictions are forcing attendees and exhibitors to look for cost-effective, manageable ways to get the most out of their show budgets and informational experiences. Mobile technologies provide a proven method of increasing attendee engagement and satisfaction, as well as decreasing expenses for exhibitors and event producers.
"Building on over 3 decades of events experience, the Mosio team set out to create Show360 with two goals: Offer cost-effective mobile technologies that are easy for businesses and organizations to implement; and make mobile services available to as many attendees as possible," says Noel Chandler, Co-Founder and CEO of Mosio.
"Most of the current mobile information services operate on rented hardware or require attendees to download an application to a smart phone. This alienates a massive amount of event-goers eager to access mobile information. Show360 utilizes text messaging and the mobile web to reach more attendees and exhibitors no matter where they are," adds Chandler.
Show360 Mobile enables show management and organizers to:

Interact live with exhibitors and attendees via mobile text messaging. Mosio's web-based technology can be used as a simple way for attendees to get general event information or for Q&A at breakout sessions and speaker panels.
Collect real-time feedback and comments from exhibitors and attendees.
Offer quick conference and event information, accessible to on-the-go attendees without mobile application development costs.
Take part in the social media conversation and trending by efficiently posting attendee comments and feedback to Twitter and Facebook during and after the event.
Mosio's Show360 enables exhibitors to:

Generate sales leads and send marketing materials in real-time through Mocardsâ"¢, Mosio's mobile alternative to printed documents, presentations and collateral.
Create mobile marketing and text messaging programs to drive customer interaction on their mobile devices during and after the conference.
Reduce expenses via a direct response technology on devices attendees always have with them: mobile phones.
More Show360 advantages:

Dynamic mobile marketing opportunities for sponsors provide an additional source of revenue and put brands, products and services in the pockets and purses of all attendees.
The technologies provide a green alternative for printed materials and reduce post-event waste caused by outdated marketing collateral
Mosio provides clients with a single technology vendor to manage all mobile event solutions. The on-demand mobile messaging platform is available via monthly subscription with a limited 14-day trial account. Managed services are built on Mosio's web-based platform, tailored to meet specific client needs and goals.
For information about Show360's mobile solutions for events and conferences, visit:
http://www.mosio.com/biz/show360
About Mosio
Mosio is a mobile software and solutions company providing messaging and mobile web solutions for businesses and organizations. Mosio helps clients connect with customers on-the-go, using their mobile presence as a competitive advantage to increase sales and brand loyalty, both on and offline.
More than 250 organizations have implemented Mosio's mobile technologies, including event-specific solutions for: Novian Health, Information Today, American Library Association, Performance Pricing, Entertainment Technology Center, Movember Foundation, GoldMail.
Info: http://www.mosio.com